Crater Lake, our only national park in Oregon, is one of the most charming national parks to visit. Its laid back atmosphere and breathtaking views, make it feel like you're on another planet. Whether it's a sunny, rainy, or cloudy day, your views are sure to be equally spectacular.
In this guide, I'm going to cover how to legally elope here, when to do it, activities to include in your elopement, where to stay and so much more! Let's get started…
The History of Crater Lake National Park
Formed by the collapse of an ancient volcano called Mt. Mazama 7,700 years ago, Crater Lake's rich blue color comes from rain or snow accumulation. Without inlets or outlets connected to the lake, there is no sediment or mineral deposit. This makes it one of the purest, most pristine lakes in the world.
Oregon's Marriage Laws – Let's Talk About Paperwork
You may choose to take care of your documents in the state you reside or where your elopement takes place. If you're planning to do it all here, Oregon requires a 3-day waiting period from the day your license is purchased (about $60) until it can be used. This waiting period can be waived by paying an additional $10.00 for immediate use.
Once the license is effective, it is valid for 60 days and must be signed + delivered to the nearest county clerk's office. The closest & most convenient place to go near Crater Lake is located at: 305 Main St., Klamath Falls, OR 97601
Here's the link to get things started online.
FYI, I am also ordained in the state of Oregon and would be happy to officiate your elopement if needed!
Permit Information for your Crater Lake National Park Elopement
You'll need to apply for a wedding permit in advance for your Crater Lake Elopement.

The park suggests applying eight weeks ahead of time but their permitting office is often understaffed so I recommend applying as soon as you know where you'd like your ceremony to take place.
The cost per application fee is $50 (non-refundable) and another $50 upon acceptance to file.
Basic Wedding Permit Guidelines per the National Park Service:
– Amplified music is prohibited. Acoustic is fine.
– Generators are not allowed in order to protect the other park visitors' experience
– Consider your guests' transportation (if any). entrance fee per vehicle is $20 / day.
– This permit map will show you which ceremony locations have a restroom.
– Throwing rice, flowers, balloons, confetti, releasing butterflies or bringing non-native plants is not allowed.
– As with any outdoor recreation, always pack trash out.
– Though there are drinking fountains and potable water available at the visitor center, bring plenty of water for you and your guests.
The Best Time of Year to Elope at Crater Lake National Park
Crater Lake National Park is open year-round, 24 hours a day. However, most areas close in the winter due to heavy snowfall. They open back up roughly mid-June until the last week of October.
There are 3 entrances to get into the park: North, South and West. The north entrance and Rim Drive are closed in the winter.
Every season has its own beauty to explore so the "best" time really depends on what you enjoy doing! If you love snow, winter is probably your jam. If you prefer warm weather, summer is definitely better.
I find early fall to be the most favored by eloping couples. You get all of the summer perks without the crowds. The weather is not too hot, not too cold and hello… who doesn't love fall?
Summer and Fall Activities
– hiking to the waterfalls
– enjoy scenic stops like Cloudcap Overlook, The Pinnacles & Pumice Castle

– hotel lodging with a panoramic view of the lake (you'll have to get reservations super early for this one – they book up fast!)
– trolley tour on the rim drive
– fishing (Kokanee salmon and rainbow trout galore)
– hiking
– biking
– camping
– swimming
– picnicking
– boat tour around the perimeter of the lake
– star-gazing at night without any light pollution (one of my personal faves!)
– explore Wizard Island
Wizard Island has a 2.3-mile hike with 750 ft elevation gain to the "Witches Cauldron" – a tiny crater of its own at the top of the island. A moderate hike for those with less experience and certainly a unique location to get married!
Cleetwood Cove Trail and around Wizard Island are great spots to go for a swim. There's a great cliff jumping spot just to the side of Cleetwood but be warned!  As America's deepest lake, measured at nearly 2,000 ft., temperatures don't get very high and average about 38 degrees.
Cleetwood Cove Trail is also where you'll find the boat tour to Wizard Island if you choose to make it a part of your elopement experience. The boat will take you around the entire perimeter of the lake, drop you off at Wizard Island (if you choose to explore), and take you back by 5pm.
Winter Activities
– snowshoeing
– cross-country skiing the rim drive – all vehicular traffic is blocked off in the winter
– downhill skiing (though there are no chairlifts so you'll need to hike
– snowboarding
– backcountry camping
– snowmobiling
– sledding
– star-gazing at night without any light pollution (one of my personal faves!)
– simply playing in the fluffy snow!
Getting to Crater Lake National Park
CLOSEST AIRPORTS TO CRATER LAKE NATIONAL PARK:
The nearest airport with commercial flights is Rogue Valley Medford Airport – about 1.5 hours from the park and is serviced by Alaska Airlines, Allegiant, American Airlines, Delta, and United Airlines.
The second nearest airport is the Mahlon Sweet Field airport, about a 3.5-hour drive to the park from Eugene Oregon.
Out of the box idea: Fly into Portland and rent a van. Stop at the many iconic Oregon spots along the drive down!
TRAIN:
The Amtrak Train provides daily service to the Chemult, OR Train Station (about a 30 min drive to the North Entrance) but you'll need to get a ride to the park since there are no places to rent a car there.
PUBLIC TRANSPORTATION:
There is currently no public transportation in the vicinity of the park. The nearest vehicle rental location will be either from the aforementioned airports or 1 hour drive in the city of Klamath Falls.
RVs, Trailers, or Bus Rentals:
Here's a great site if you're interested in renting one.
Crater Lake doesn't currently have any restrictions on the size of RVs, trailers, or buses allowed in the park. However, the roads are pretty narrow so drive carefully and watch for wildlife, bicyclists and pedestrians.
FUEL:
– West of the park: Prospect Service Station on Hwy 62. Gas and diesel are available 8am-8pm daily.
– South of the park: Crater Lake Junction Travel Center on Hwy 97, 30 miles from the fee booth. Gas and diesel are available 24 hours there.
– Inside the park: in front of the Annie Creek Gift Shop in Mazama Village there is a charging station for electric vehicles with one standard connector and one Tesla connector. When there is heavy snowfall, the EV station may be unavailable until it is dug out. The park's gas station is closed in the winter.
Lodging at Crater Lake National Park
Options for sleeping in the park are Crater Lake Lodge, a campground, or obtaining a backcountry permit for camping. The park's lodges and campgrounds are closed during the winter and open back up when the north entrance & Rim Drive open in the summer.
Other Nearby Lodging for your Crater Lake Elopement:
The Barndominium Cabin – This cute country bungalow is pet friendly with 3 bedrooms (should you bring any guests), a ping-pong table. It is close to the city of Klamath Falls if you need any last minute supplies.
The Old Farmhouse Cabin – Only 5 minutes from the Crater Lake entrance. It is pet friendly with a big yard for pets to run around. It has great mountain views and includes a pool table, BBQ grill and outdoor dining area.
The Chalet – This adorable A-framed cabin is nestled in the woods only 20 mins from Crater Lake National Park. It includes kayaks for the private park nearby and is also pet-friendly.
The Modern Marsh Wren Cabin – A 25 minute drive from the Crater Lake entrance. Kayaks are available for use at Agency Lake. Great sunset views & an oversized tub in the master suite.
Camping in Crater Lake National Park
Campground options include RV with full hookups and RV with no hookups or tent. Click here for Mazama Campground Reservations.
Safety & Preparation Tips for your Crater Lake Elopement
Preparation is the key to a good time. If you choose to work with me for your Crater Lake Elopement, I'll share a custom packing list of exactly what to bring but here's a general list:
Wear Layers
No matter what time of year it is, all Crater Lake locations are between 6,000 – 9,000 ft elevation. Bring more layers than you think you'll need.
Hydration
According to the Wilderness Medical Society, your body loses water through respiration at high altitudes twice as fast as it does at sea level. So if you only remember one thing from this guide, make sure it's to bring water!
Download Maps
Cell service in the park is spotty. Download your maps ahead of time through Offline Google Maps or All Trails. Those are my go-tos!
Pets
Pets are allowed on the Godfrey Glen Trail (1.2 mile loop) where you will get some decent views of the canyon, but anywhere around the rim of the lake is off limits for pet safety. There are other areas that allow pets such as Mazama Village, Lost Creek Campground and the Pacific Crest Trail but you will not have any views of the lake from these.
Restrooms and Drinking Water
Restrooms at Rim Village are open July – October 24 hours a day and close in the winter. Water from the restroom sinks is safe to drink and bottled water is available for purchase at the Rim Café and Gift Shop. 
Food
Whether you are reading this guide for your elopement or just getting informed before visiting, I strongly advise packing plenty of meals before coming. The food options at Crater Lake are… limited. If you are choosing to elope here, I can refer you to some great personal chefs that are happy to craft epic meals for your Crater Lake Elopement!
Do Not Feed the Wildlife
What may seem harmless can be detrimental to both humans and animals. Feeding disrupts their hunter-gatherer behavior which eventually leads to malnourishment. It is best practice is to simply enjoy their presence and leave them be. 
Winter Safety
Keep in mind this is one of the snowiest places in America with a yearly average of 42 feet of snow! It's important to be extra cautious while exploring in the wintertime. If in doubt, please watch this safety video before hitting the park for winter activities.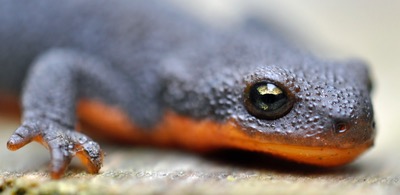 Crater Lake is the only place in the world where you can find the Mazama Newt. This subspecies of rough-skinned newt is native to the lake. Threatened by invasive species, scientists are trying to combat non-native crayfish and preserve the existence of these unique little buddies. 
Usually found hiding under rocks or logs, visitors may spot one of these rare creatures around the edge of the lake.
Need a Photographer for your Crater Lake National Park Elopement?
I hope this elopement guide has covered everything you need to know to elope in Crater Lake National Park.
If you choose to elope here, I'd be thrilled to be your photographer and co-creator of an amazing elopement experience! I can show you all of the best spots and vendors to help you plan the perfect day.

Let's get this party started! 🤘🏽